I actually refused some chocolate last night…not often that happens! Geese, I need to get down the gym today. 😄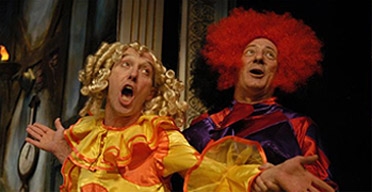 I must confess that I've been looking forward to going back to work for the last few days. The highlight of my holiday was the annual family trip to the pantomime at the Theatre Royal in York. The award winning performance was up to its usual high standard and I recommend a visit if you can make it…the performance runs until the 2nd February.
One nice find over the holidays was a free online book for learning Lisp. When combined with Lisp in a Box you've got an easy way to learn Lisp.
I've always hated the look of Lisp, all of those parenthesis and all, and I was determined to find out more. I confess that now I understand where Lisp is coming from, I understand why things are the way they are. You see, everything is a list in Lisp and that includes the language itself. Clever stuff…
Another time sink was Blitzkrieg, a real time strategy game set in World War 2, I bought yonks ago but didn't like. I now remember why I didn't like it. A game is not the same as a simulation and should never be confused with one. At times learning Blitzkrieg felt like learning WordPerfect with all of the different key combinations I needed to learn. Sudden Strike is a far better game. Unfortunately, I couldn't find my original game disks so that's why I had to play Blitzkrieg instead.
Normal service will now be resumed.