Power line networking: my experience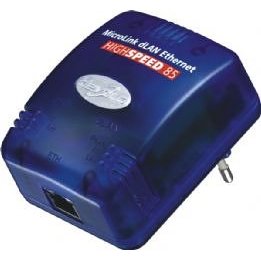 Over the weekend my wireless adaptor at home gave up the ghost. Not being the greatest fan of my wireless network at home (I find it too unreliable and slow) I took the opportunity to look at power line networking.
I took myself off to my local PC World and grabbed one of the Devolo Homeplug High Speed Starter Kits. Got home, plugged in; configured my PC with a static IP address; and hay presto I was up and running.
I was surprised just how smoothly the installation went, everything worked without a hitch ….so far!
If you are using DHCP, the power line networking would have been completely configuration free. Just plug-in and go!
The only downside I can see is the price. Two adapters for around £85-90 is marginally above the cost of an equivalent wireless network. Though, you don't have to worry about security or wireless reception. Both good reasons to pay a little more money for peace of mind.
If you are wary of wireless, give power line networking a try. Recommended!